Handcrafted Copper Sinks…
HP Austin's copper apron sinks are patterned after large copper bowl wash basins once common throughout America and Europe. Our re-creation is an all-welded basin made of 16-gauge copper with optional decorative apron front, providing a warm artistic touch. Our experienced craftsmen create each copper kitchen sink in a small Texas hill country workshop. A natural finish is applied which ages over time and through use developing into a rich, unique color.
Customers may choose from four standard decorative fronts, or create a custom front to complement their design scheme.
Each sink is hand-made by a copper craftsman in a small Texas copper shop.
The basket weave front is hand woven for a quality look and feel.
Our copper hand-hammered finish has a finely crafted appearance showing our coppersmith's attention to detail.
Old nickel silver is a weathered pewter look that will age with time.
Our sinks are made with thick 16-gauge copper, not thin brass that has been copper- plated and weathered.
Drain lines in the bottom, as shown below, provide for an even flow of water.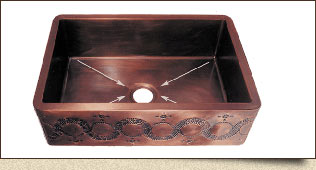 Sizes Available:
S-33 Standard Size Farmer Sink 33″ x 22″
S-44 Chef Size Farmer Sink 44″ x 22″
(Sizes are nominal)
Each Sink is a Living Work of Art…
The beauty of an old-world copper sink is the uniqueness of the finish. No two copper sinks will age the same. If a deep, rich brown is the color you desire, rubbing the basin with peanut oil periodically will achieve this look. A scrubbing with brass cleaner will keep the basin a bright, shiny pink. Exposing copper to salts and ammonia will achieve the ever popular verdi gris finish. If these kind of unique effects are just what your design requires, our golden oil and old penny finishes will not disappoint.
Copper Sinks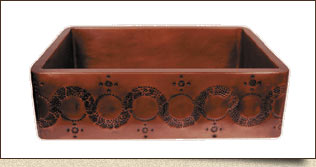 La Vibora Golden Oil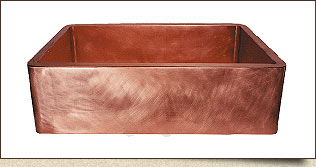 Plain Golden Oil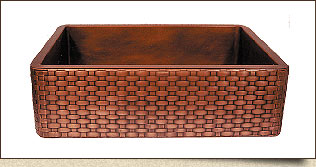 Basket Weave Copper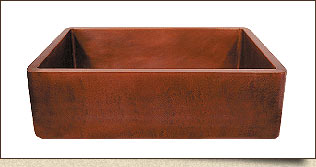 Hand-Hammered Copper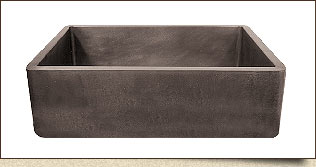 Hand-Hammered Old Nickel Silver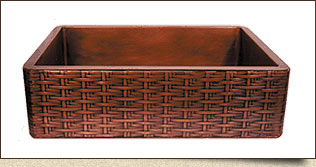 Chair Weave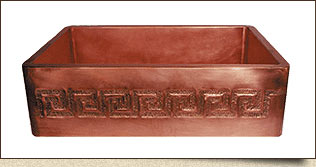 Greek Key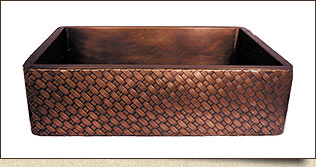 Lattice Weave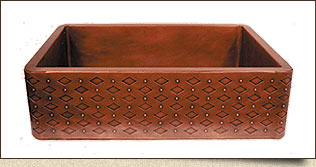 Riveted Diamond