Handcrafted Copper Bowl Sinks…
HP Austin handcrafts copper sinks one at a time in a small Texas hill country shop. All copper bowl sinks are carefully created by hand using heavy gauge copper, ensuring top quality construction. HP Austin's copper sinks are truly unique because they are crafted solely from 16 gauge copper. From the fine craftsmanship of our old world finishes to the substantial weight of the sink bowl, our coppersmiths set the highest quality standards in the industry.
Our copper sinks are made of thick 16-gauge copper, not thin brass that has been copper- plated and weathered.
Old nickel silver offers the highly sought after patina look in a ready made finish that continues to age with time.
From satin nickel, oil rubbed bronze to weathered copper, our bowls will complement any finish scheme.
A 1/2 inch extension is provided with each sink for ease in installation.
Our bowls are available in both undermount and drop-in installation options.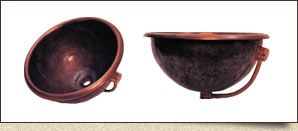 Overflow option is available with
11/2″ drain opening.
Drain options: 1 1/2″ lavatory, 2″ bar
or 3 1/2″ kitchen
Each Copper Sink is a Living Work of Art…
The beauty of an old-world copper bowl sink is the uniqueness of the finish. No two copper bowl sinks will age the same. If a deep, rich brown is the color you desire, rubbing the basin with peanut oil periodically will achieve this look. A scrubbing with brass cleaner will keep the basin a bright, shiny pink. Exposing copper to salts and ammonia will achieve the ever popular verdi gris finish. If these kind of unique effects are just what your design requires, our golden oil and old penny finishes will not disappoint.
Basins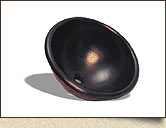 Oil Rubbed Bronze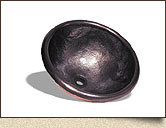 Hand-Hammered
Oil Rubbed Bronze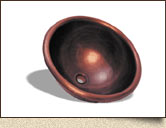 Old Penny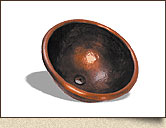 Hand-Hammered
Old Penny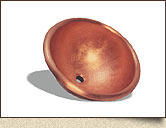 Golden Oil
Hand-Hammered
Golden Oil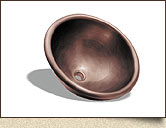 Satin Nickel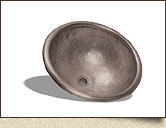 Hand-Hammered
Old Nickel Silver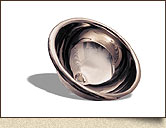 Polished Nickel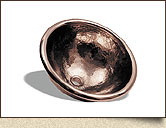 Hand-Hammered
Nickel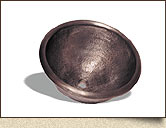 Hand-Hammered
Satin Nickel